Becca's Adoptions

Hello, this is what you get when you give me an Ethernet connection (thus letting me go online easily and quickly). Meet my online menagerie... Oh, and guest curator is Melody, a character that refuses to die. Her comments are in red.
Testing, testing, one, two, three... Rebecca likes--Ha ha, Melody. Let's get on with this.

Pocket Bishonen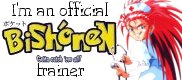 What do you get when you cross cute guys and Pokemon? You get Pocket Bishonen, a site devoted to 'catching' your favorite anime guys.
That is so wrong in so many ways.
Shut up. Anyway, it's trivia based, and I love trivia. Here's my collection.


Wow, Becca, you have no life. And aren't some of these guys a bit young for you... or old for you... or another species... and they're all not real.
They're just male characters I like, Meldoy. Don't read into it.
Sure, whatever...

Pocket Bishshoujo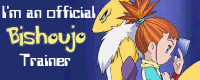 You know what, I realized all my little bishonen were looking a little lonely, so guess what? I got them some bishoujo to keep them company.
She's lost it. I'm afraid to be here with her. Someone call somebody.
You're just jealous.


You're in college, right? Do you actually go to class, or do you just stuff the internet looking for things like this?
I go to class. I get good grades, too!

Digimon Minis
Aren't they cute!
Oh, yes. Small pictures of Digimon characters. Uh, huh.
Don't you have some homework, Melody?


Harry Potter Chibis
More mini madness!
She's insane. Who agrees with me? Can I see some hands? No? Darn... Anyway, what does Harry Potter have to do with anime?
Well, uh, Look over there! It's Tenchi!
Not funny, Becca


Those are the students. Better bring some teachers to keep them in line


Still don't see what this has to do with anime.
Nothing. Happy? Now, be quiet.
Hey, you asked me to be here.
And I regret it already.

Sundowner Chibis
Even more little cute figures.
Well, at least these are manga
In case you didn't know, Sundowner is an online manga by the very talented Kellilla Yarwood.
Shameless plug number one.


Please, Becca, lay off the minis/chibis.
I can stop any time I want...